An EBNER HIT(T).
EBNER.blog | Marius Kreuzeder, EBNER, Austria
EBNER delivers the first HITT bell annealer for high-temperature anneals of grain-oriented (GO) electrical strip.
The increasing customer demand for higher coil weights and improved temperature uniformity, combined with the need for the lowest possible operating costs when conducting high-temperature anneals of grain-oriented electrical strip, has led a well-known American customer to choose EBNER as the supplier of a new high-temperature bell annealer facility.
In contrast to other existing facility designs (multi-stack furnaces sealed with sand), our HITT (High Temperature & Tight) furnace provides a complete, gas-tight separation of the workload space and the combustion chamber.
This separation allows a precisely-controlled atmosphere to be achieved, with significantly lower hydrogen consumption. A special patented coil support enables radiant heat to uniformly and efficiently heat coils in the workload space, leading to a significant reduction in scrap.
Paired with a cooling bell, this system ensures the shortest possible processing times. It provides the highest productivity, paired with the best possible quality and high throughput. The safety concept for processing in hydrogen has been adopted from HICON/H2 bell annealers, and either an electric or a gasfired heating system can be installed.
High-temperature anneals use secondary recrystallization to form grains with the magnetically advantageous Goss texture (3). The high processing temperatures (above 1150 °C) and straight hydrogen atmospheres also remove sulfur and nitrogen from the material (4). First, a drying phase (1) is used to dry the MgO coating applied during an upstream process, which inhibits the formation of stickers in the wraps at high workload space temperatures by forming a Forsterite layer (2). The processing steps (1 – 5) of the high-temperature anneal are depicted schematically in the following figure.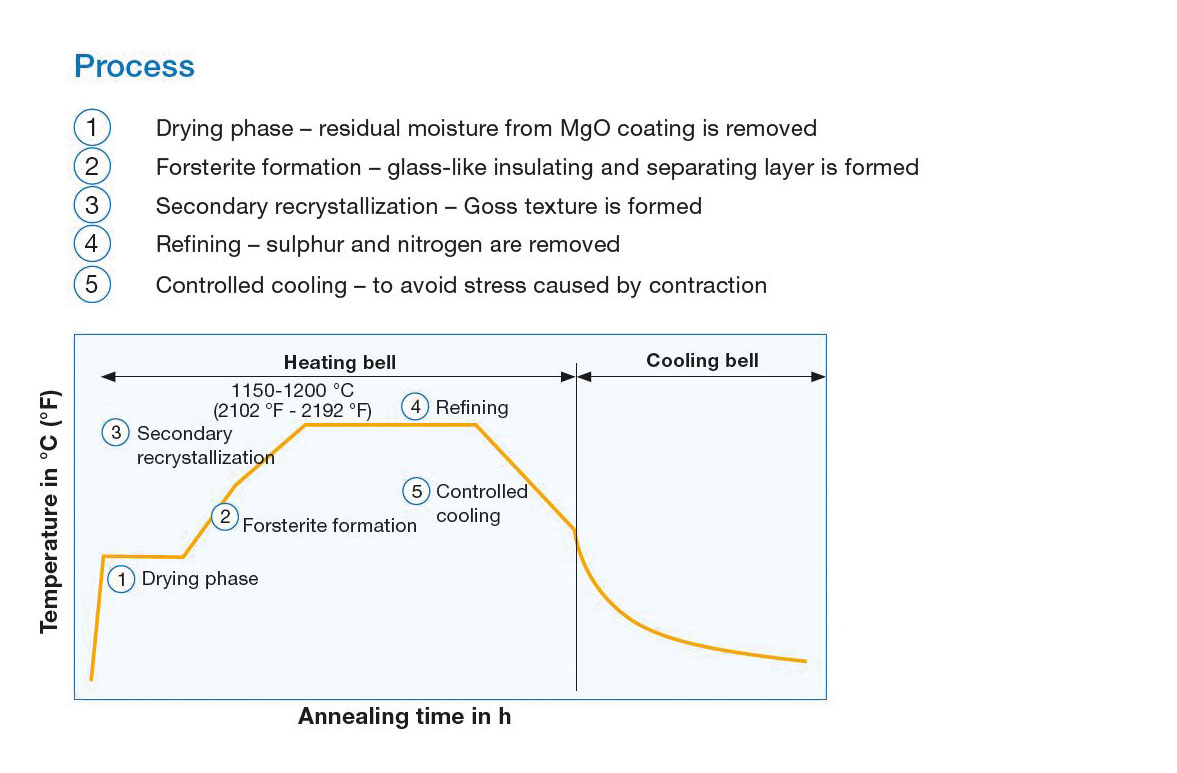 The following advantages contributed to the customer's decision to choose an EBNER HITT bell annealer over a multi-stack sand-sealed design:
Lower utility consumption (H2, N2), due to the gas-tight encapsulated workload space
Lower energy consumption (fuel gas)
Homogeneous temperature distribution within a coil, due to the patented coil supports and symmetrical heating; this ensures:

homogenous magnetic properties
reduced scrap due to reduced amount of strip edge damage
shorter annealing cycles (heating-up)
long inner cover service life

Cooling in 100 % H2 atmosphere and use of a cooling bell provide:

significantly increased productivity
improved surface finish
prevention of further
Technical data of reference facility:
Diameter: 2000 mm
Charging height: 3000 mm
Max. net charge weight: 44 t (2 x 22 t)
Heating system type: gas-fired
1 workbase / 1 heating bell / 1 cooling bell