1st executive summit.
EBNER.blog | Christian Kovacs, EBNER ACADEMY, Austria
Cost efficient lightweighting - efficient applications for AHSS & UHSS.
Under the motto "high class training specifically dedicated to high class technology", EBNER supports both success and the development of competencies at its customers with modern, individually-tailored training concepts.
Due to the COVID-19 crisis, however, training and seminars have generally been conducted remotely over the past year and a half – in the form of EBNER Academy webinars.
In the fall of this year, it was finally time to end the long dry spell and hold a comprehensive, high-level event fully in the spirit of the EBNER Academy. In collaboration with voestalpine AG, a two-day summit was organized that would focus on cost-efficient lightweighting within the mobility sector.
This first executive summit and networking event was
thus held on September 21 and 22, 2021, with "Cost-efficient lightweighting – efficient applications for AHSS & UHSS" as its theme.
The goal of the event was to be able to exchange ideas with EBNER customers and partners from the automotive sector in person, as well to enable the acquisition of new customers, promote the extension and strengthening of networks and present and demonstrate both products and expertise.
With all necessary safety precautions taken, the summit was held in two locations: the voestalpine Stahlwelt in Linz, Austria and EBNER Industrieofenbau in Leonding, Austria.
On the first day of the event, twenty-two internationally known keynote speakers made extremely interesting presentations covering five main subject areas:
OEM – needs, requirements and trends
New materials
Equipment and machinery
Technology and supporting processes
Parts & production
At this high-level event EBNER was represented by Peter Seemann (head of EBNER R&D), who spoke on two different topics.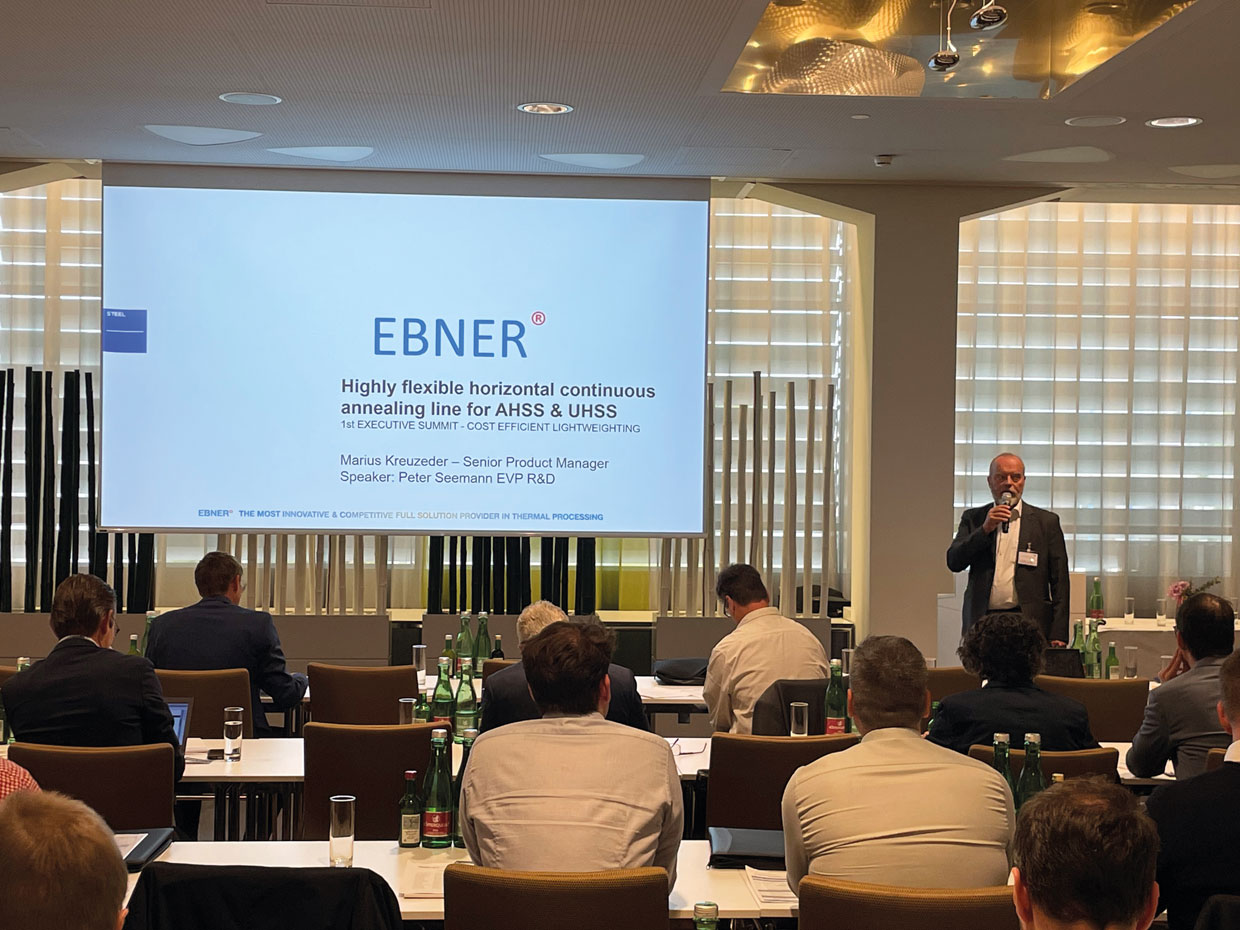 Presentation at voestalpine
Both topics are presented in more detail below.
HIGHLY-FLEXIBLE HORIZONTAL CONTINUOUS ANNEALING LINES FOR AHSS AND UHSS
Technical progress creates a constant pressure to improve the mechanical/technological properties of materials. The need to increase passenger safety and reduce emissions has led to new types of steel such as AHSS, supporting the drive toward lighter vehicles.
In turn, these materials have created new challenges for heat treatment facilities, which must ensure that the desired mechanical properties are achieved. Higher annealing temperatures, faster cooling rates, improved strip geometries, increased overaging times, the highest possible temperature uniformity and rapid transitions between product types are all required. The requirements placed on a continuous facility – to produce the entire range of AHSS grades both economically and in an appropriate quality – thus pose a significant challenge.
Over the last few years, EBNER has developed a range of functionalities with the intent of making these goals achievable not only for small-scale hardening and tempering lines, but for OEMs and their tier 1 suppliers as well.
To meet customer requirements in terms of annealing, EBNER has developed HICON/H2 quenching technology. This system is integrated into a flexible, horizontal CAL with an annual throughput of 110,000 t for dual-phase and martensitic grades.
This technology allows an improved design for a horizontal continuous reference line, with significantly improved production scenarios and increased technological flexi-bility to respond to the most demanding annealing cycles and alloys.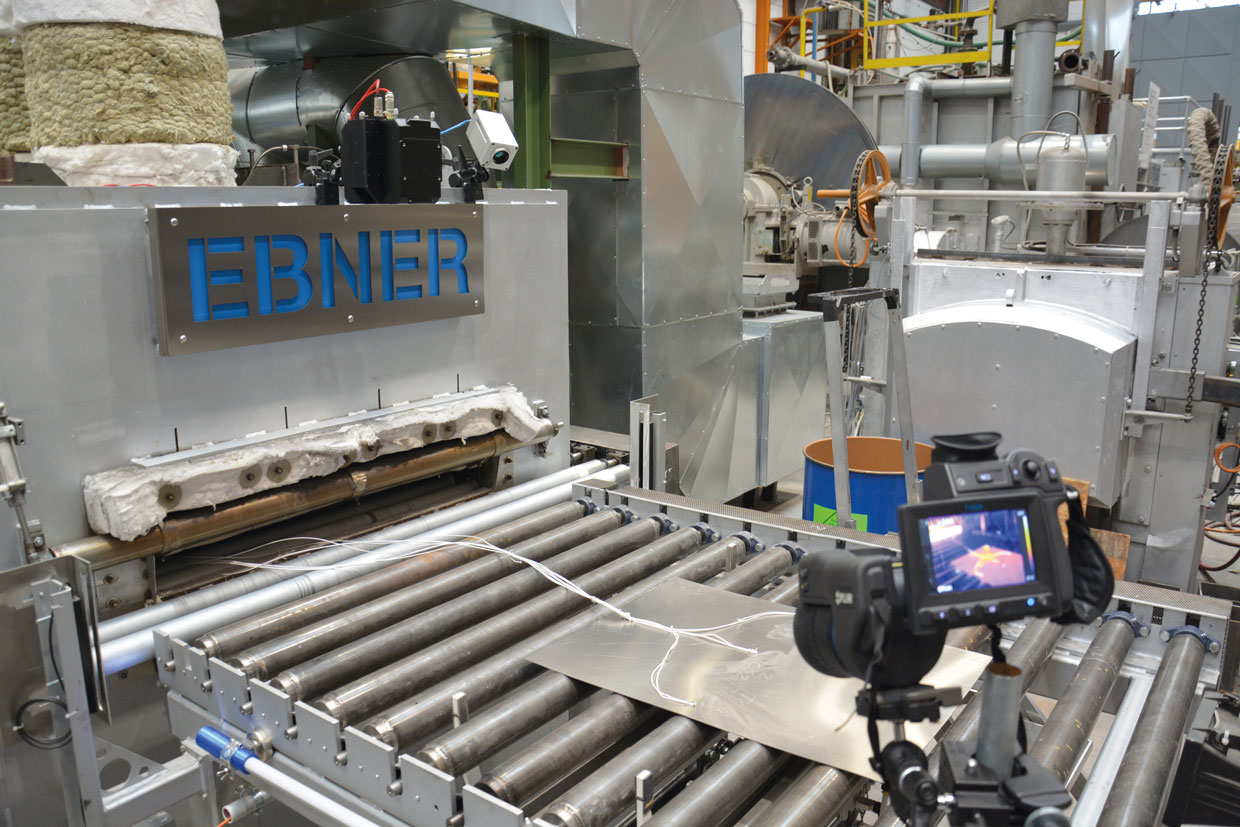 Presenting EBNER HotForm & ITL hot forming of aluminum blanks in the EBNER lab.
EBNER HOT STAMPING WITH TTP TECHNOLOGY
Due to ever-stronger calls for the active reduction of emissions in automotive manufacturing, all industrial machinery suppliers have been called on to make a contribution. 
EBNER PACC technology provides a cost-effective solution for the production of hot-formed components with individually-tailored properties. With EBNER's years of experience in the field of press hardening as a starting point, PACC technology has now been developed even further to make it capable of meeting the future requirements of the market.
The greatest potential for weight savings can be found in the manufacture of large sidewall components that are heat treated individually, as this reduces the overall number of parts. One of the most important steps during TTP hot forming process is the creation of a precisely defined temperature profile within the blank, which must be heated in a manner that will meet the crash behavior requirements specified by the customer. All requirements for rapid, even heating of the blank must be fulfilled, even as the PH facility provides both the greatest possible economy and the greatest possible throughput (t/h).
EBNER has proven its ability to offer solutions that implement individual customer requests, meet exact strength specifications and provide flexible component designs.
A VISIT TO THE EBNER LAB
The second day of the event offered deeper technological insights at three different locations: voestalpine PHS, voestalpine Stahl and EBNER Industrieofenbau. Shuttles were provided to transport more than 60 participants between the locations.
At EBNER, two stations – one with steel and the other with aluminum as a theme – could be visited, at which the following simulations were presented:
EBNER HotForm & ITL hot forming of aluminum blanks
Pressing retrofits
TTP/PACC simulation PHS
Contact-free temperature measurement of metallic surfaces
3MA measurement of steel parts
SimCAL test
LESSONS LEARNED
The first executive summit was not just an excellent opportunity to network and reinforce partnerships. It also provided a venue at which the future of mobility could be discussed in terms of the opportunities and chances it offers, and at which the most innovative developments could be benchmarked.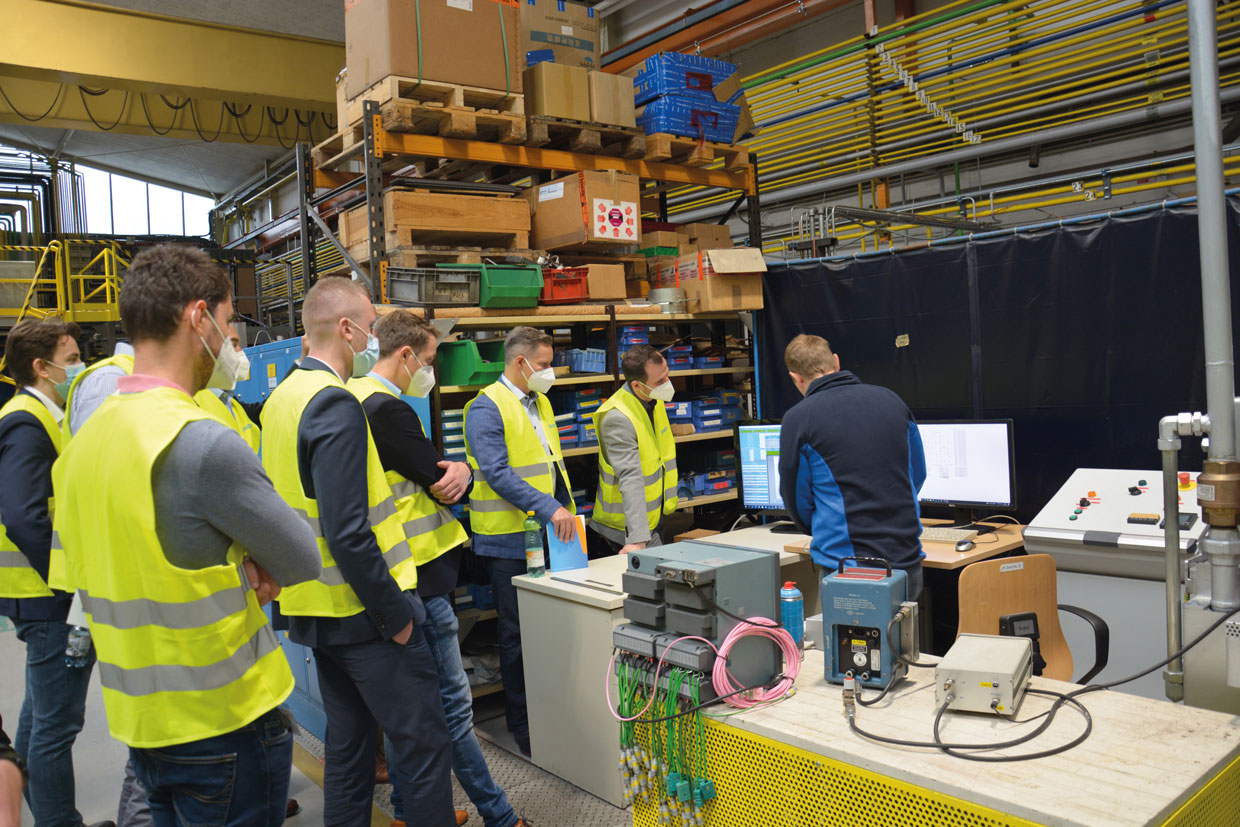 Presenting SIMCAL testing in the EBNER lab.