E3 – more than just green
EBNER.blog | Peter Gosch, EBNER, Austria
E3 - more than just green.
Those who think green place their trust in EBNER technology.
The pressure placed on companies is increasing from all sides, particularly on industrial concerns: regulatory agencies, investors and customers all demand verifiable sustainability. Failure to respond poses a business risk.
The EBNER GROUP takes environmental responsibility very seriously. To us, "economy" and "ecology" are not opposites. As a globally-active, owner-operated technology business, we constantly take an environmentally aware approach and set standards in environmentally-friendly production.
PRICE OF CARBON CREDITS RISING DRAMATI-CALLY.
Although an emissions certificate for a ton of CO2 cost only 25 Euros in 2020, the price had risen to over 52 Euros by June of this year. Further price increases are to be expected, due to upcoming reforms and the stricter limits placed on CO2 emissions that will go into effect in 2030. Europe's major steel manufacturers already spend millions on certificates to cover the carbon they emit. Furthermore, due to the increasing scarcity of "free" certificates that companies are allocated, the number of certificates that must be purchased will increase from year to year. This money would be better spent on new technologies.
While governments seek to balance ecological and social needs through expensive carbon credits, EBNER sees the solution in eco-friendly technologies.
MISSION: REDUCED EMISSIONS
New strategies for environmentally-aware and energyefficient approaches are required to demonstrably reduce the ecological footprint we make on our planet. Increasing numbers of EBNER customers ask how our facilities are manufactured, as well as how environmental benefits can be increased and processes made as climate-neutral as possible through the use of EBNER technologies. For these reasons, we take compliance with ecological and social principles into account when selecting our suppliers.
This may be a shared responsibility that must be met, but it is also a challenge that we face together. Solutions are needed that are not just green – they must also provide a competitive advantage.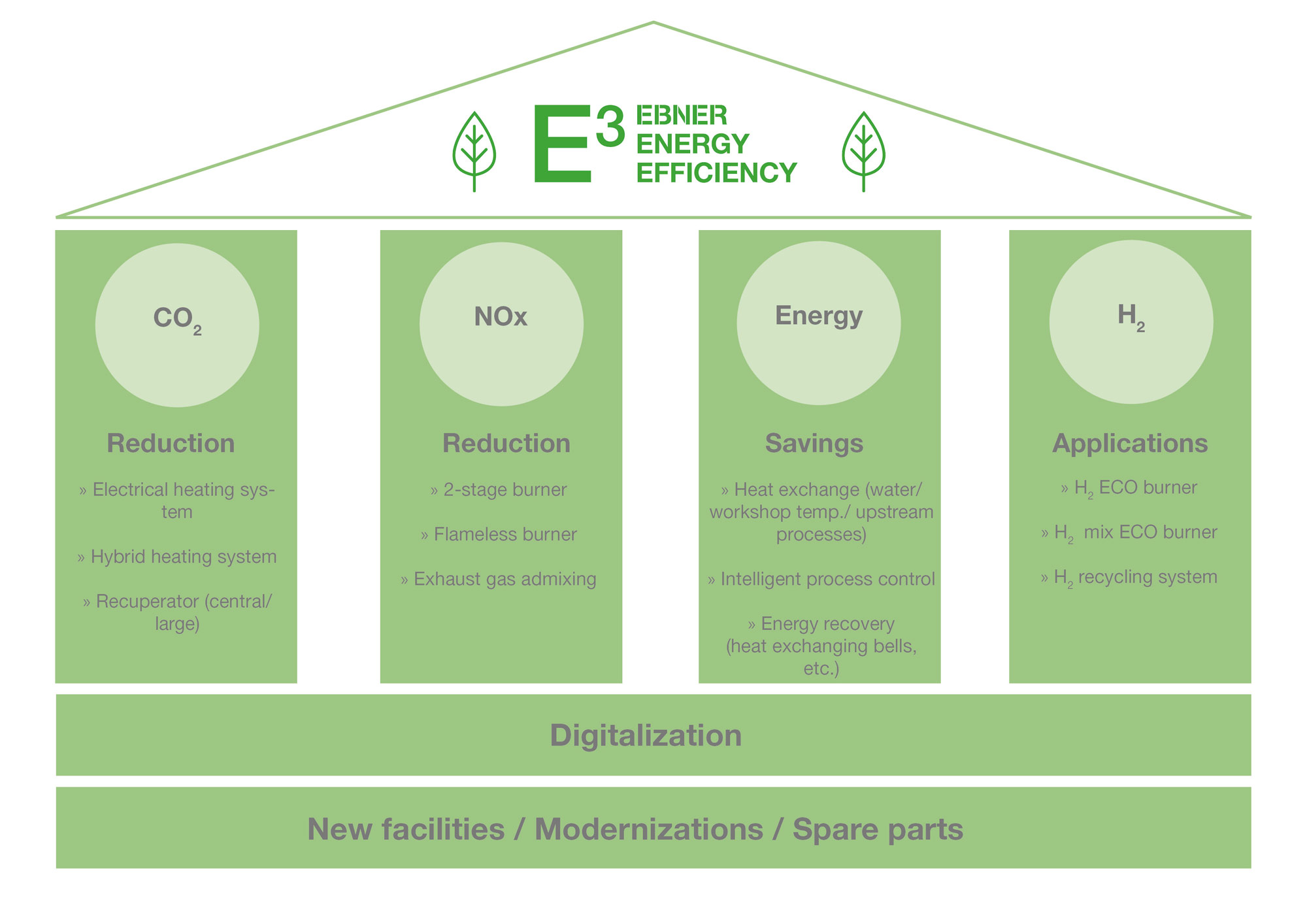 The 4 pillars of the EBNER E3 concept
The pressure that is being exerted is also creating opportunities in many industries, as competition is fierce. Morality and monetization are fighting for the planet on which we all make our home. In this struggle, it is clear that the magic word "efficiency" is one that is paving the path to green prosperity and economic stability.
E3 – EBNER ENERGIE EFFICIENCY
As a world leader in the manufacture of industrial facilities, EBNER does not only promote the development of sustainable technologies and their integration into our product line. We also promote the further development of individual technologies during every customer project and through projects carried out within our own company. By choosing EBNER and our E3 solutions, our customers are promoting not just the achievement of their company's climate goals. They are also ensuring the sustainable success of their company. It is already possible to heat every one of our facility types using climate-neutral energy.
ECOLOGY MEETS ECONOMY
Calculation of the various measures needed to create savings, increase efficiency and meet sustainability targets is often not a simple task, and creates new challenges for many companies. We can provide meaningful input to simplify this process for our customers.
Through the use of new technologies such as energy recovery, lightweight designs for certain components or combustion air preheating, EBNER has continuously improved the energy efficiency of its facilities.
Our E3 concept is based on the following four pillars, all of which have a positive effect on the environment:
CO2 reduction
NOx reduction
Energy savings
H2 applications
Alongside this "4 pillars" model, we encourage both the digitalization of our projects and the modernization of existing facilities. These allow the climate goals established by our customers to be achieved even more quickly.
POTENTIAL CO2 REDUCTION, BY FURNACE TYPE
It is already possible for every EBNER facility to be heated with an electric heating system, which can make a significant contribution to the reduction and elimination of CO2.
Depending on the alloy being processed, charge weight and cycle time, as well as the type of facility, significant savings can be achieved.
The table shown below shows potential savings in annual CO2 emissions for three EBNER furnace types.
REDUCTIONS IN ANNUAL CO2 EMISSIONS*
* All listed examples refer to furnaces designed to process aluminum
Aluminum has an impressive ability to be recycled. Around 75 % of the aluminum that has ever been produced is still in use today. This means that the life cycle of this product is particularly environmentally-friendly. The cycle begins when raw mineral is extracted, but after only a few steps in the manufacturing chain the material begins to be continuously recycled. Aluminum can reworked an infinite number of times without the loss of quality. EBNER facilities in which aluminum is heat treated to obtain required material properties also play a critical role in this product cycle. They ensure that this environmentally-friendly metal retains or even reduces its environmentally-friendly footprint.
Investment in an EBNER facility also has a positive effect on another calculation. With EBNER, customers become not just pros in climate protection – they also become TCO champions. 
COST SAVINGS THAT NEVER END
Investment decisions are often made before adequate information becomes available on the long-term running costs created by continuous expenses. EBNER is quite aware of these long-term costs, for which reason a significant element in our strategy has been to make our customers TCO champions. Those willing to take a look at all the costs when investing in a facility may be surprised to see how quickly they, despite an initially-higher investment, reach the break-even point.
MASTERING THE ENERGY REVOLUTION TOGETHER
At EBNER, we are convinced that we can best meet the ecological and economical challenges of the future when we work together with our customers and business partners. It is for this reason that, one year ago in September, we started several global campaigns aimed at reducing energy consumption and emissions – as well as at improving OEE (Overall Equipment Effectiveness) values. With these campaigns we sought not just to inform our customers and business partners of our newest developments in these sectors. As customers and partners will be accompanying us long-term on this path, we also sought to begin a dialog with them and to work together toward a sustainable future.
EBNER works intensively on its go-green strategy. CO2 -neutral operation is already possible at every EBNER facility. EBNER begins development of flameless burner systems to further reduce NOx emissions.
Depending on the application, new gas-fired facilities will be entirely equipped with flameless burner systems to further reduce NOx emissions. The development of H2 burner systems is an additional step toward a reduction in CO2.
By 2030, about 50 % of all new EBNER facilities should be delivered with CO2-neutral heating systems. Our central premise is that the number of heat treatment facilities operated with natural gas will be reduced by the increased use of alternative fuels (H2, bioethanol, etc.).
In accordance with the goals of the European Union, our value-added chain will be completely climate-neutral.