Groundbreaking at Bilstein.
EBNER.blog | Herbert Gabriel, EBNER, USA
Groundbreaking at Bilstein.
The heat is on in Bowling Green, Kentucky.
Bilstein, a German-based producer with a 110-year history of producing a wide range of high-quality precision steel products, has recently announced an expansion to their Bowling Green, KY facility.
As a privately owned, mid-sized company with roots in Europe, known for quality, innovation and tradition, Bilstein and EBNER have a common basis for doing business efficiently.
Bilstein has supplied products to US customers for well over 30 years, and founded Bilstein USA in 2009. A short few years later, they decided to build a cold rolling mill in Bowling Green, KY. Unfortunately, EBNER was not successful in supplying the hydrogen bell anneal equipment installed in this initial phase. But for the new expansion at their Bowling Green facility, slated to go into production in the spring of 2022, Bilstein selected EBNER to supply six HICON/H2 annealing bases.
Nearly 1000 t will be "cooking" at any one time at these workbases, producing exacting metallurgical properties by precisely heating and cooling the coil stacks in 100 % hydrogen atmosphere.
The requirements of each coil are taken into consider-ation by advanced optimization and modeling software, guaranteeing precise and consistent quality for Bilstein's customers. This integrated system continuously monitors and automatically adjusts the process parameters as needed, ensuring the requirements of each coil are met.
EBNER has always been the first address for precision carbon steel processors throughout the world, as we recognize the level of precision it takes to make demanding products for the automotive and tool steel industry. In the future, this level of sophistication will also be rolled out for the older, non-EBNER batch anneal equipment.
I recently had the pleasure to join the Bilstein team during their groundbreaking ceremony, where their main partners for the expansion project were recognized. It is truly an honor for EBNER to be associated with the Bilstein Group again, especially here in the US. From EBNER's subsidiary in Ohio, we look forward to accompanying BSCR, Inc into a successful future. We would like to thank the entire Bilstein team for their professionalism and for the trust they have placed in EBNER.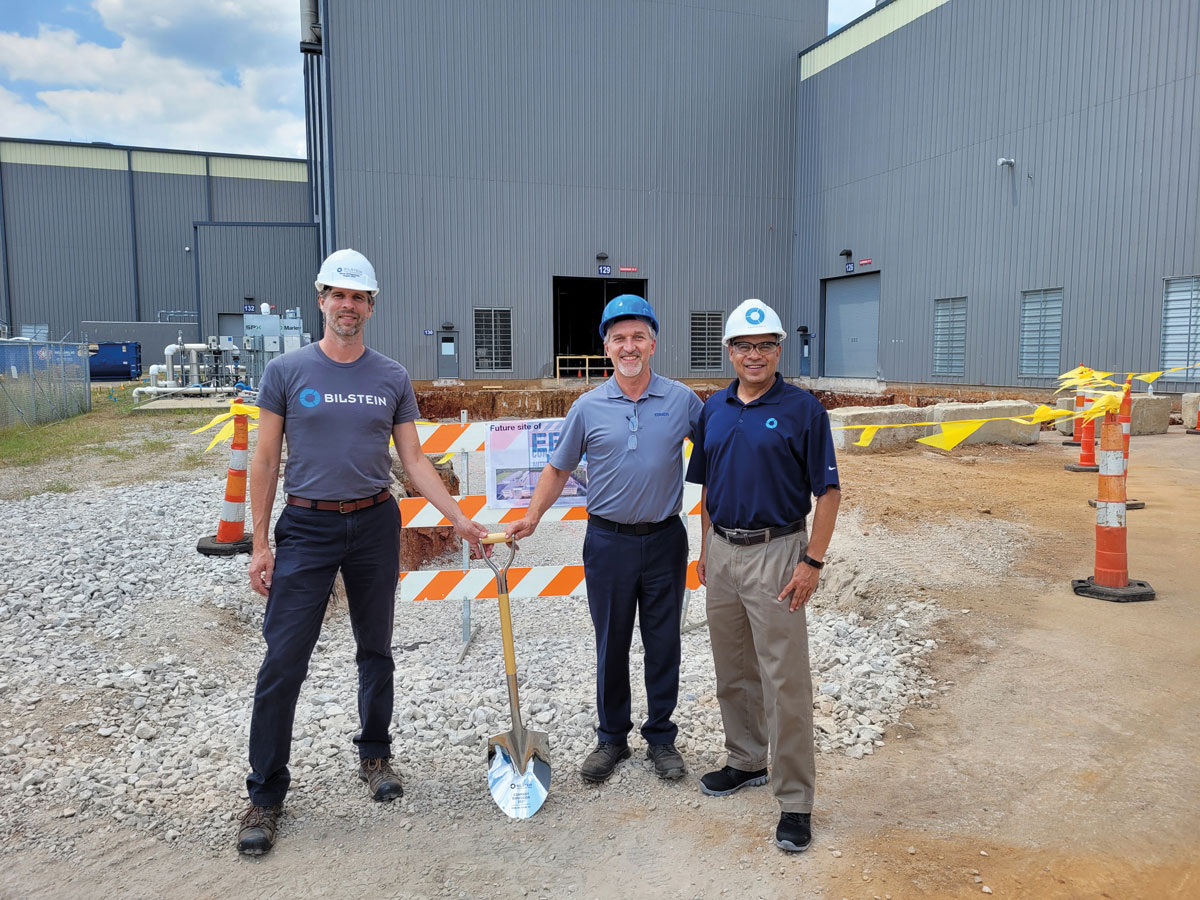 From left to right: Brent Wilson (CEO BCRS), Herbert Gabriel, Francisco Ibarra (Project Manger, BCRS)