HICON SABER
EBNER.blog | Karl Wohlfahrt, EBNER Industrieofenbau, Austria
A next generation EBNER facility.
The first fully-automatic EBNER HICON/H2® bell annealer facility has successfully started production.
Wieland Austria, based in Amstetten, Lower Austria, has been a leading manufacturer of copper and copper alloy specialty tube and long products for many years. The company has now placed its trust in new bell annealer technology from EBNER.
A new concept for bell annealer handling systems
The following requirements characterize conventional bell annealer installations:
A reinforced shop structure and an overhead crane
High crane hook elevation or installation of the facility in a foundation trench
Continuous presence of operator personnel to manually handle the bells, as well as to charge/decharge the coils at the workbase
As in some cases these requirements lead to high investment costs or cannot be met, EBNER decided about two years ago to develop a completely new concept for thev handling systems at HICON/H2® bell annealer facilities.
The new concept is based around a handling device with an elevator car installed at shop floor level, which is designed to travel on rails. This handling device shifts entire charge stacks in one step, and is also used to shift heating bells, cooling bells and inner covers fully automatically. All these tasks can be carried out without an overhead crane.
The first order
The new charging concept was first announced by EBNER at the WIRE & TUBE 2018 trade fair in Düsseldorf, Germany. Only three months later, Wieland Austria was convinced by the new concept and an order was placed for the turn-key delivery of a HICON/H2 ® bell annealer facility to heat treat copper and copper alloy LWC coils.
The facility is comprised of two workbases, each with a stack height of 2350 mm, a gas-fired heating bell, two air / water cooling bells and a handling system (charger). The scope of supply also included special processing equipment required for the heat treatment of copper tube that sees use both before and during heat treatment, such as an N2/H2 mixing system to generate process atmosphere, a vacuum pump unit and an internal tube purging system. The entire process sequence, from the placement of an assembled charge stack, actual heat treatment with the heating and cooling sequences and on to retrieval of the charge takes place fully automatically, without any manual intervention.
A state-of-the-art process control system to monitor and supervise the process sequence, record and archive relevant process data and perform all data handling tasks – from planning to data exchange with the customer's production control system – was also installed.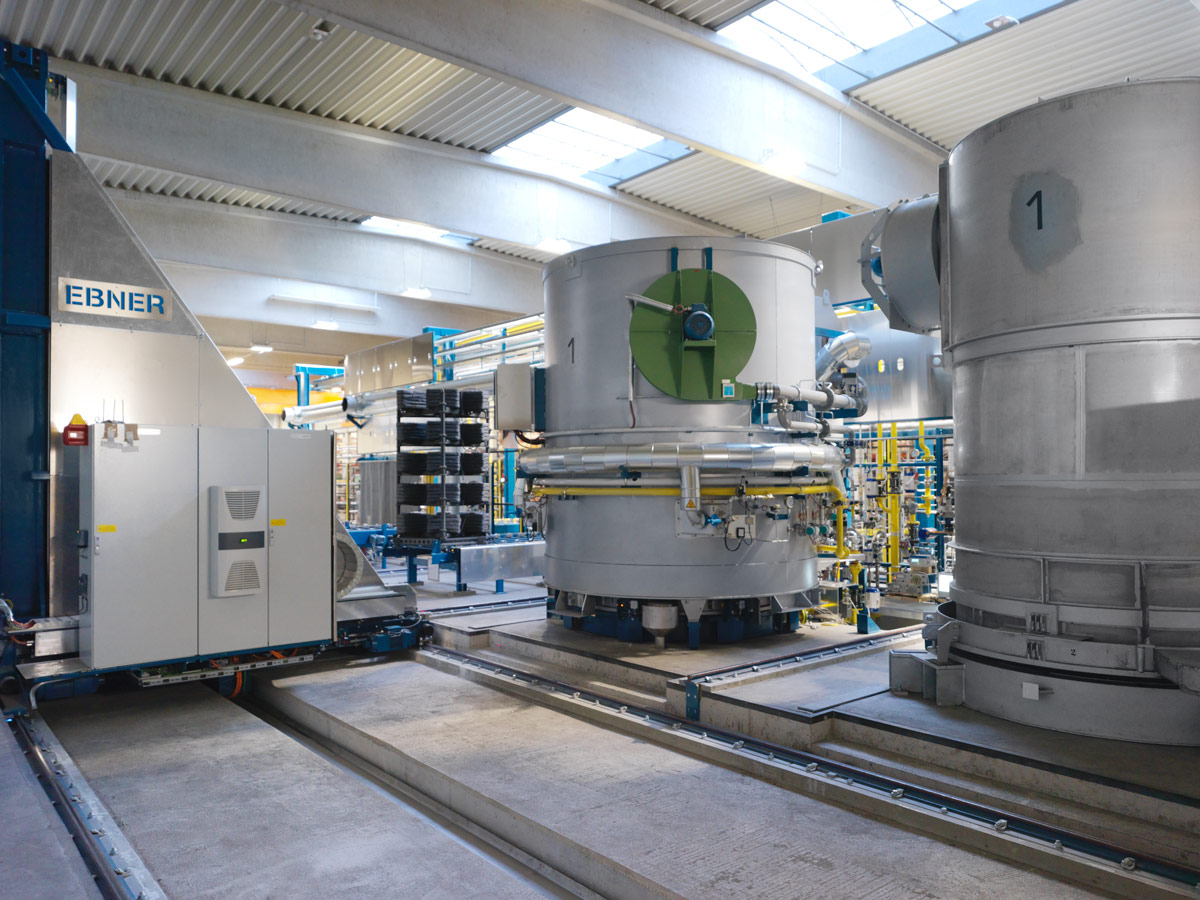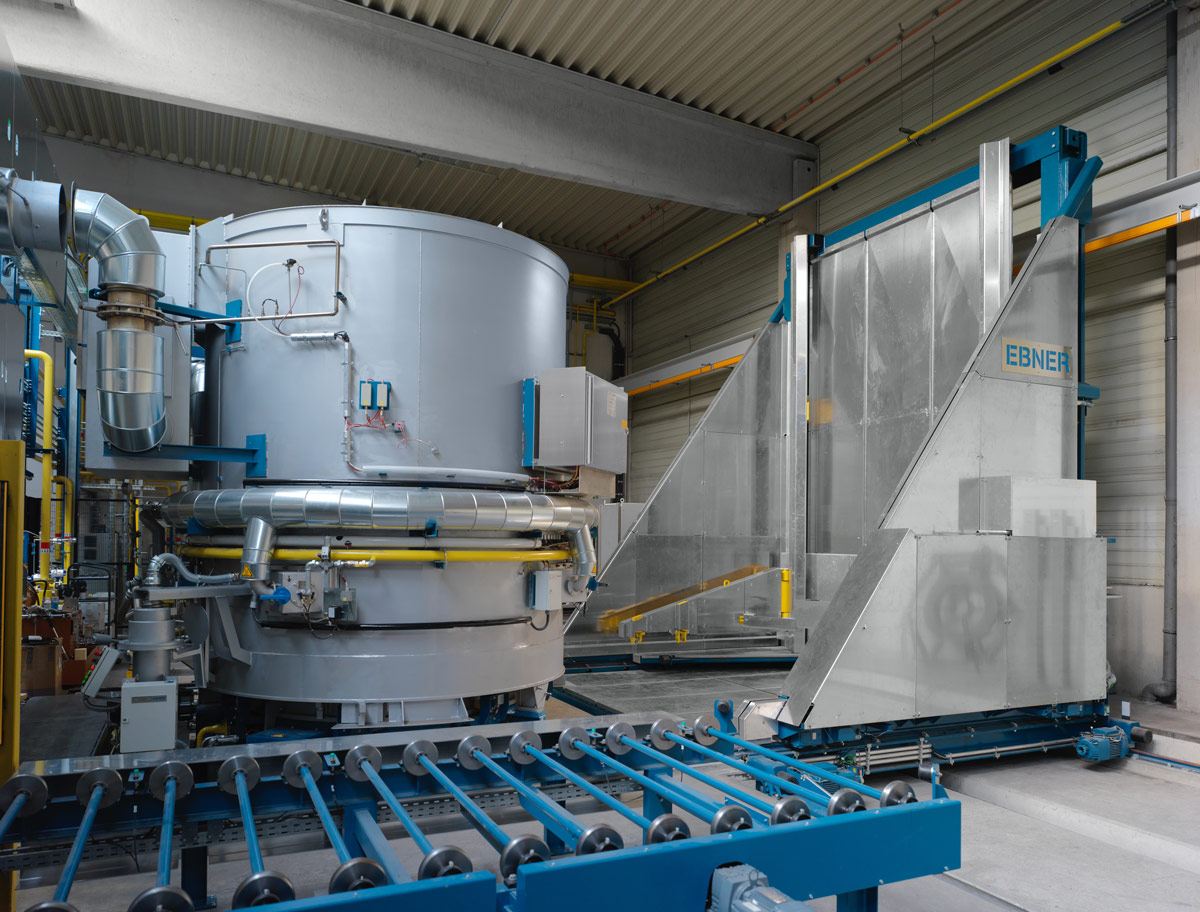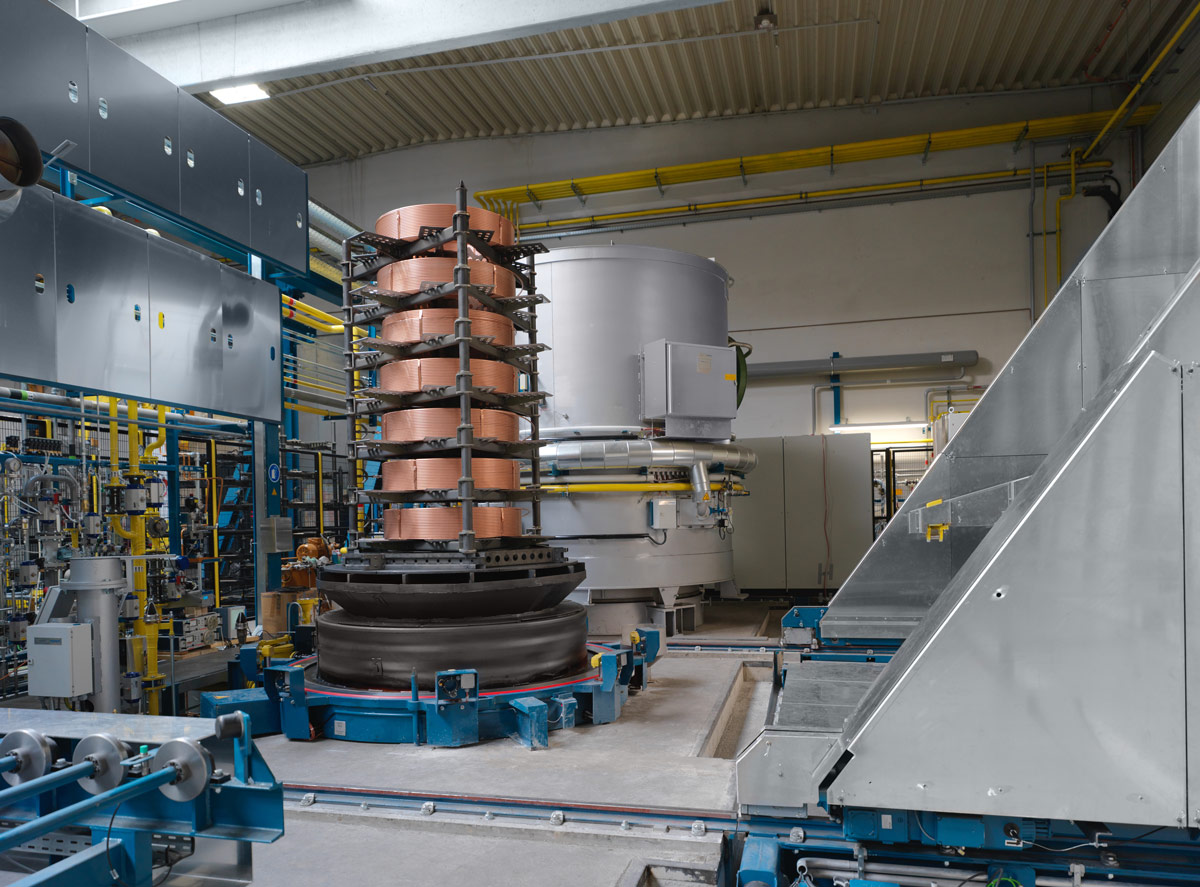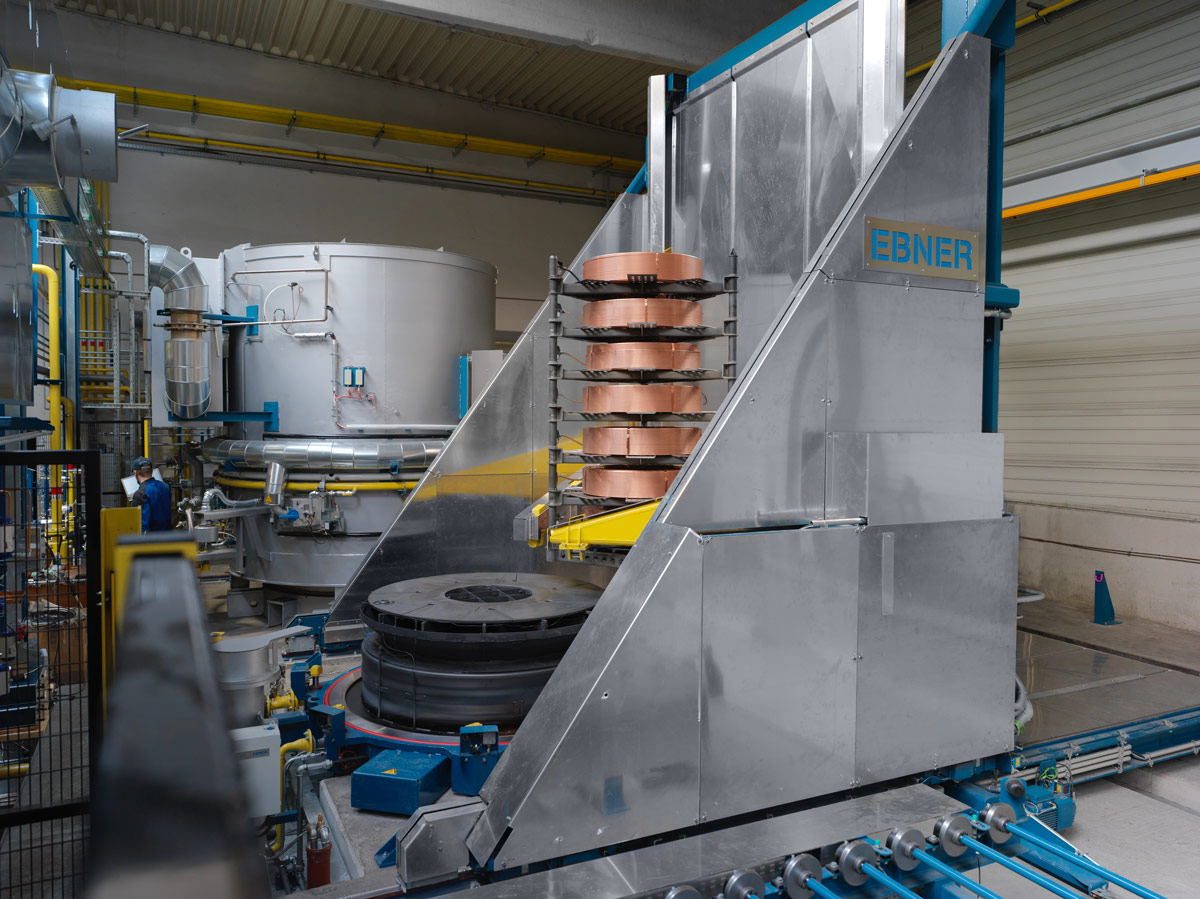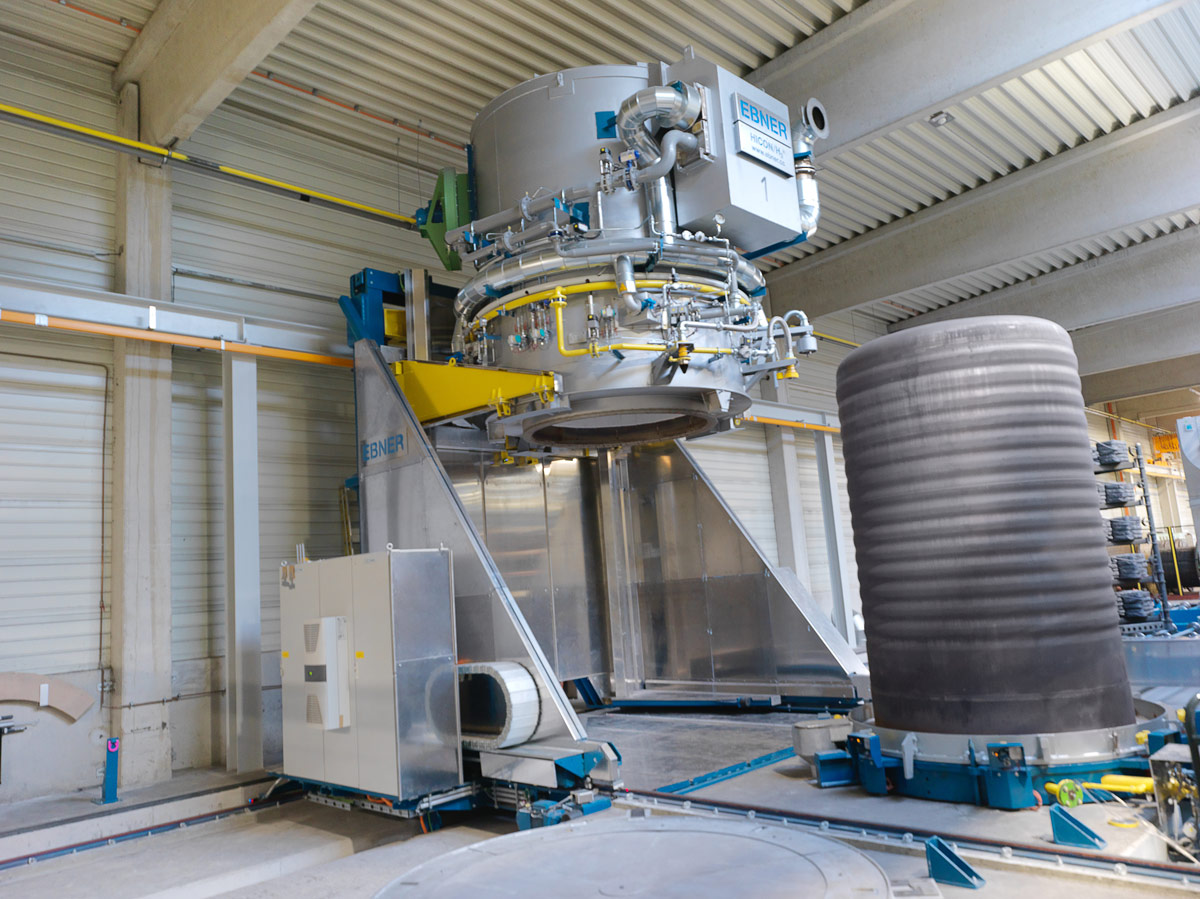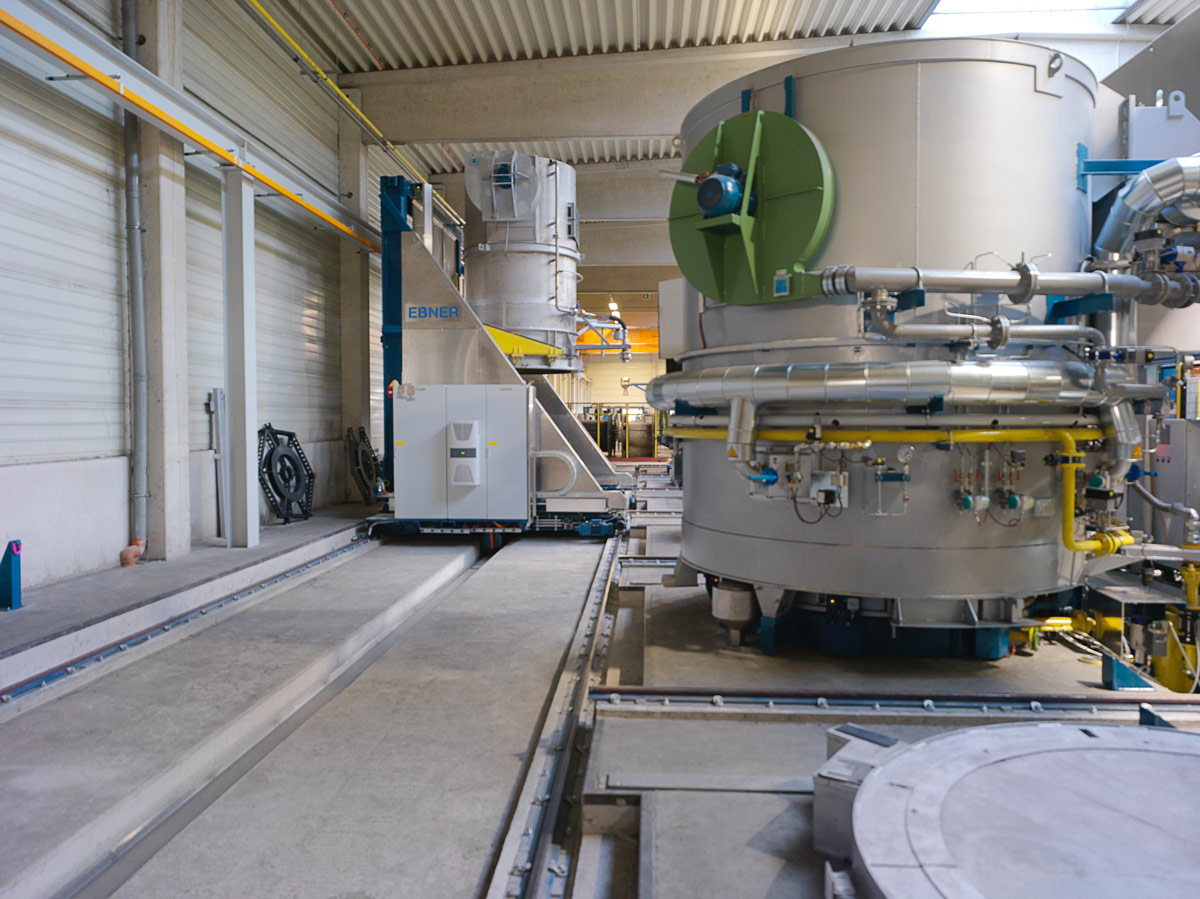 Versatile application
A bell annealer is characterized by its versatility and flexibility. Such a facility is capable at operating economically at low throughput levels and small batch sizes, and can be upgraded with relatively little effort by installing additional workbases – which is synonymous with increasing capacity.
For Wieland Austria, this aspect was a decisive factor in the decision to invest in this type of technology. The need for material temperatures reaching more than 800 °C and the ability to use different process atmospheres with hydrogen contents up to 100 % were important additional factors in the decision. Along with LWC coils, which are annealed in special charge baskets, it is also possible to charge the facility with large steel drums filled with up to 2.5 tons of copper mill products.
Automatic coil handling and stack formation system
A fully automatic coil handling and stack formation system was also integrated into the overall facility design. After the heat treatment sequence has been completed the coils are packed, with the complete packing system ordered by the customer from Ingenia (a subsidiary of the ASMAG Group).
The overall concept also allows the facility to be operated without direct supervision. There is also the possibility of using the new charger to buffer multiple coil stacks before or after heat treatment, annealing them them one after another.
Significant advantages provided by fully automated bell annealer facilities include:
Installation of the furnace facility in a simple workshop structure, without the need for an overhead crane (if a crane is installed, it need only be a maintenance crane)
Implementation of increased charging heights in existing annealing shops when investing in replacement equipment (without an overhead crane, stacking heights can be increased by 1 – 2 m)
Reduction of operator personnel and/or existing personnel may be employed to carry out other tasks
Increase of component service life and reduction of maintenance work through precise handling and exact positioning of bells and charges when shifted
Increase in workplace safety through automatic operation
Integration / interfacing with upstream and downstream processes
In a nutshell, in comparison with other automation systems, use of a fully automatic handling system at a bell annealer facility increases throughput capacity and process safety even as it reduces maintenance and personnel costs.