A quantum leap forward in the hardening and tempering market.
EBNER.blog| Karl Wohlfahrt & Sascha Eppensteiner, EBNER Austria
A quantum leap forward in the hardening and tempering market.
Thanks to continuous innovation, the throughput capacity of EBNER hardening and tempering lines has doubled over the years.
About a year ago, C.D. Waelzholz GmbH & Co. KG of Hagen, Germany successfully started production with the world's most powerful hardening and tempering line – manufactured by EBNER.
Founded in 1829, Waelzholz today is an innovative and internationally-active family-owned company employing cutting-edge technology, with branches on four continents. Over 2400 employees throughout the world manufacture tailor-made steel strip and profiles not just in Europe, but in China, North America and South America as well.
A LEADER IN THE HARDENING AND TEMPERING SECTOR
Cooperation between the Waelzholz Group and EBNER began in 1985, with the successful commissioning of their first EBNER hardening and tempering line for steel strip. This line was designed to martemper carbon steel strip with a width of up to 650 mm and a thickness of up to 4.0 mm.
In the following years, additional EBNER lines for various Waelzholz works in Germany and Brazil were commissioned. Since then, seven EBNER hardening & tempering lines designed to produce carbon steel strip with martensitic, bainitic or sorbitic microstructures have gone into operation.
THE CONCEPT BEHIND THE NEWEST HARDENING AND TEMPERING LINE

The new hardening and tempering line for steel strip, currently the most powerful line in the world, has been producing high-quality carbon steel since 2019. It is distinguished by the following features:
A highly-flexible austenitizing furnace with a roller transport system guarantees short times when switching between temperatures, as well as the lowest possible exhaust gas emissions due to the use of a special strip heating system.
The high capacity molten metal quench is equipped with automatic level control for the molten metal, as well as a thermal energy management system.
The martensite cooling section supports a wide range of product types and ensures a high degree of reproducibility.
The tempering section, with a leveling furnace that can be precisely adjusted and a

HICON

tempering furnace equipped with a jet nozzle system, provides a high level of uniformity and ensures that quick changes can be made in the processing conditions.
The high degree of automation, with pre-setting functions and weld seam tracking integrated into the processing steps, ensures that high productivity is paired with low personnel requirements.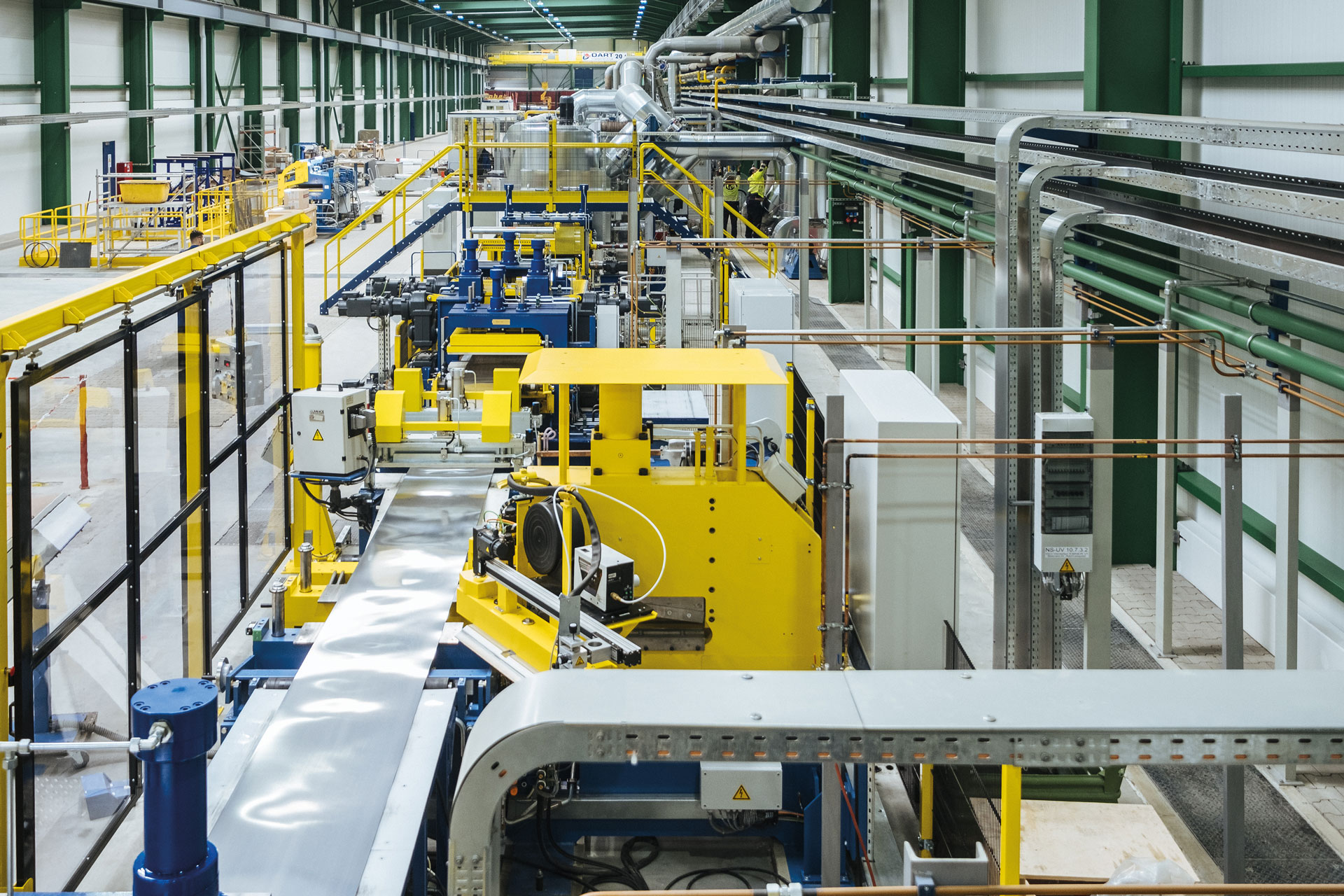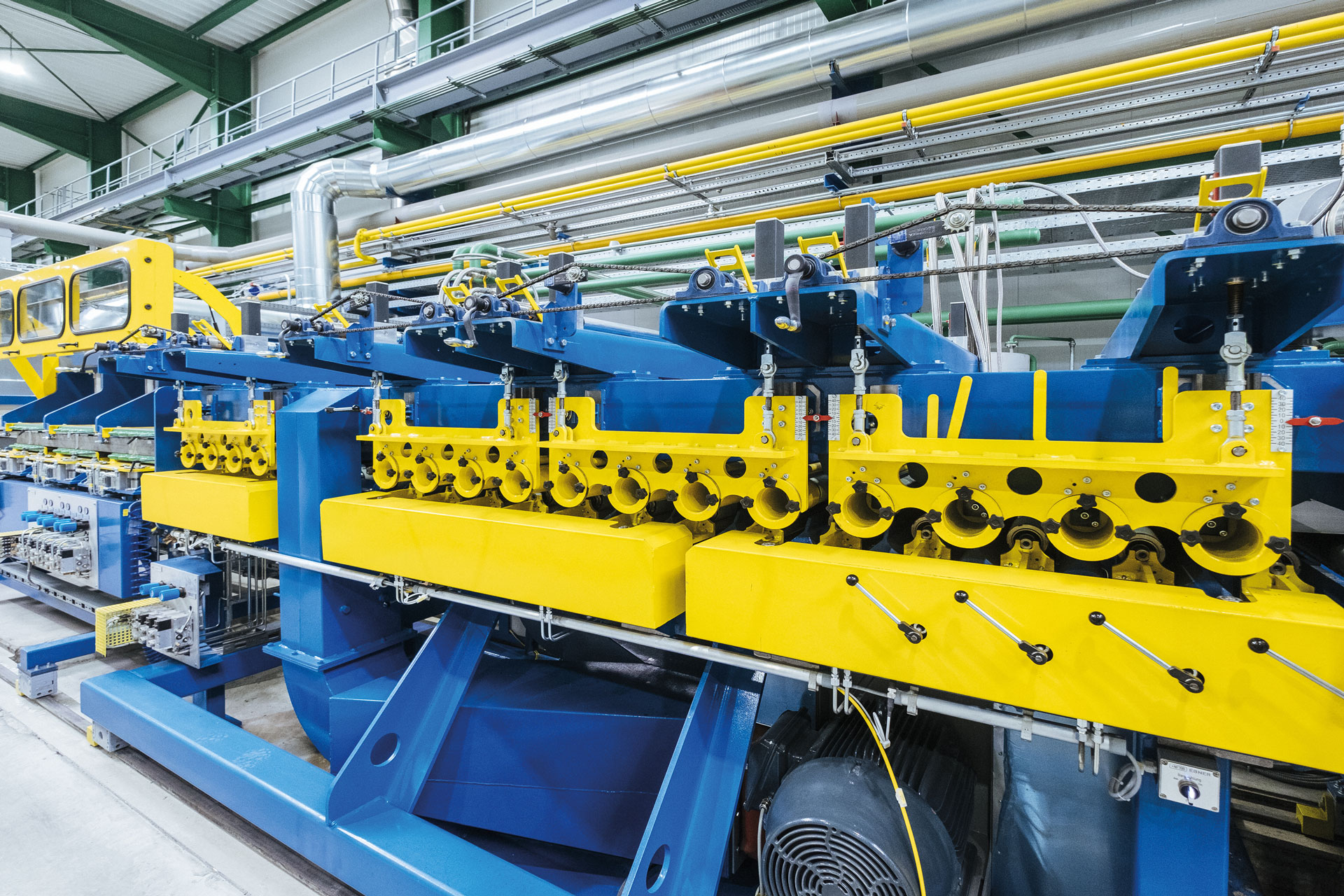 THE GENERAL CONTRACTOR

EBNER acted as the general contractor when supplying the facility. This began with development of the concept for the complete facility (strip handling section, heat treatment section, automation systems) and continued on up to implementation, including installation and commissioning.
COMPARING THE GENERATIONS

The following comparison between the first and latest facilities supplied to Waelzholz underlines the high degree of innovation that has taken place at EBNER throughout the years:
Increase of the maximum throughput capacity by abt. 100 %
Reduction of the specific fuel gas consumption by abt. 30 %
Increase of the maximum strip cross section by abt. 30 %
TECHNICAL DATA OF FACILITY:
Hardening and tempering technology: Martempering
Materials: Non-alloyed and low-alloy carbon steels
Strip width: 150 – 750 mm
Strip thickness: 0,5-5 mm
Number of strands: 1-3