An anniversary on our anniversary
EBNER.blog | Günther Mascher, EBNER
An anniversary on our anniversary.
As EBNER celebrates its 75th anniversary, work begins on its 101st pusher furnace.
While it may not seem that long ago, it will soon be 40 years since the mid-1980s saw EBNER deliver its prototype pusher furnace facility. 
At that time, it was a challenging task for the company to deliver a new type of furnace to a country as far away as Taiwan. The customer's high degree of satisfaction ensured that EBNER invested further development work in this furnace type, and additional customers were quickly won over.
Around two decades later, in 2002, the first international HICON aluminum symposium saw our customers report their experiences with the pusher furnaces that had been installed thus far. At the time of the symposium, EBNER could proudly count over 30 pusher furnaces installed throughout the world. The positive feedback, paired with our continuous development and research, encouraged the further spread of these furnaces.
RAPID DEVELOPMENT AND INCREASING DEMAND
With its many advantages, our pusher furnaces quickly grew to dominate the market – forcing out other traditional types of ingot heating furnaces such as soaking pit furnaces and batch-type ("chamber") furnaces. Our customers now only request these other types for special applications.
Of particular note is the change in charge dimensions, with increasingly large ingots becoming common – particularly at new hot rolling mills. This increase is reflected in the dimensions and throughputs of our furnaces.
As a result of the constant stream of orders, EBNER has been able to retain its hard-earned technical expertise and incorporate it into every new facility. The knowledge we have acquired has not been lost through subcontracting or the departure of employees, as has been the case at some of our competitors.
Around 2010, the number of bid requests rose sharply as a state-of-the-art flat aluminum strip industry developed in China. Well-known manufacturers were won over, choosing to install our furnaces at their works. This development is clearly reflected in the following chart, which shows the number of our furnaces over time.
Our first pusher furnace facility in Taiwan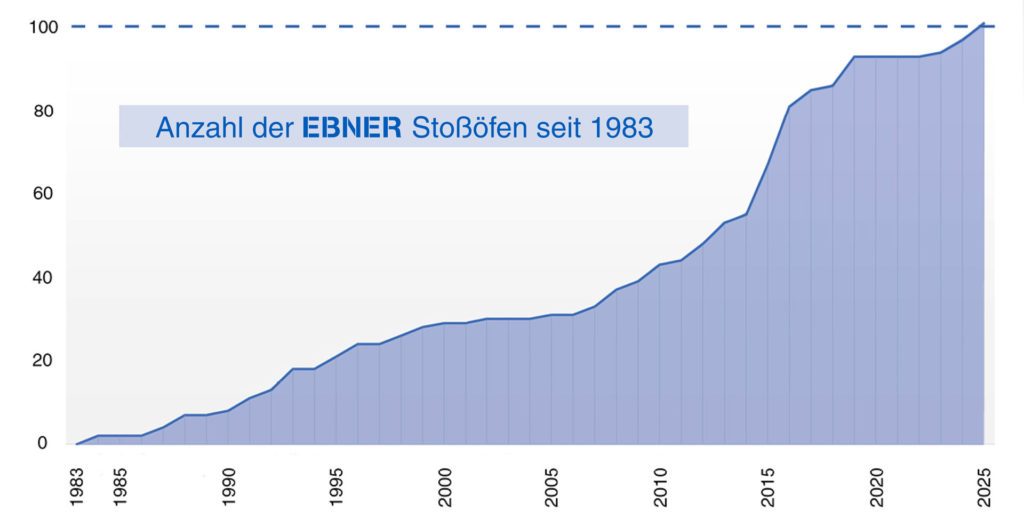 Over the decades, HICON pusher furnaces – like many other types of EBNER furnace – have undergone extensive technical development and been extensively automated.
HIGH FLEXIBILITY AND ADAPTABILITY
To limit the risks presented by advancing technology to the greatest possible extent, EBNER is capable of testing the practicality of newly-developed theoretical improvements in our in-house test center. A wide variety of trials and tests can be conducted, ranging from initial heat treatment trials in small batches to straightforward tests of engineering ideas, stress testing of new devices and the assembly and testing of complete furnace component groups – many things are possible.
With our experience and flexibility, EBNER is in a position to develop special solutions for specific customer requests for both new facilities and modernization projects.
CONTINOUS DEVELOPMENT TO SUPPORT SUSTAINABILITY
Ongoing development has led modern furnaces to be many times more sophisticated, more powerful and more efficient than the first pusher furnaces. They are also automated to a far higher degree.
Despite this, the effort to improve our products never ceases and EBNER is continuously developing solutions to meet our customers' needs. Currently, alternative heating systems and energy conservation are major issues. The related work on eco-friendly solutions employs the strategic framework of our E3 (ENERGY EMISSION EFFICIENCY) approach.
THE EBNER GROUP: A FULL SOLUTION PROVIDER
The EBNER GROUP has steadily grown through the addition of new companies, meaning that a wide variety of facilities and furnace types can now be offered by the Group. The equipment covers the complete spectrum of production steps.
Of particular note is an alternative method of manufacturing strip, one that uses a continuous casting process. This replaces the manufacture of strip from cast rolling ingots (for which a hot rolling mill equipped with pusher furnaces is required).
As the production of cast strip using a twin-roll caster was developed in the mid 1950s, this method has always coexisted with other processes. However, this production process was significantly advanced in the 1990s through the development of a belt caster by HAZELETT Strip Casting Corporation. HAZELETT has been a member of the EBNER GROUP since 2021. Thanks to the belt caster both the quality of casts and the throughput have continued to improve.
The need to increase quality and throughput capacities, along with the one hundred hot rolling mills operating throughout the world, assure us that the demand for new pusher furnaces to manufacture aluminum strip and plate will continue or even grow. We can also upgrade existing pusher furnace facilities, employing individualized modernization programs to bring them up to the latest technological level.
Our know-how and experience make us optimistic that in the future we will be able to successfully implement many pusher furnace projects for our customers, and we are thus ready for the next one hundred EBNER pusher furnaces.