Those who constantly improve stay on top
EBNER.blog | Peter Seemann, EBNER Industrieofenbau, Austria
Those who constantly improve stay on top.
From technological leaps and go-green developments on up to digitalization.
One of the most significant challenges of a fast-paced economy is the ability to quickly develop innovative ideas into profitable products and to find those products a long-term, competitive position in the market. To do so, EBNER makes use of structured, systematic processes.
What form does the innovation process take at

EBNER

?
Innovative ideas are submitted to and collected at the EBNER Innovation Hub (EIH). A panel of experts, along with the employees who submitted the ideas, then evaluate the submissions and a decision is made as to which ideas to pursue. Every innovation is documented in a database at the EIH. This allows evaluations and analyses to be made and information to be displayed graphically, e.g. as a portfolio representation.
The inspiration for such innovative ideas comes from our customers, the industry, scientific research and of course from our employees. Ideas are recorded in an innovation "fact sheet", and then described and evaluated in light of technical, economic and strategic criteria. If an innovation is "ready", it shifts to a product development process for further work.
The process of product development is carried out in a classic stage-gate process. For every phase, as well as for every gate, template documents stand ready for reporting, documentation and evaluation. These describe the required content, information and supporting records that are used by the panel of experts responsible for the relevant gate during the decision-making process. Evaluations are made using comparable criteria and indicators. This allows direct comparison of product development projects, evaluations and portfolio analyses.
Adaptive forms of these processes were deliberately chosen. Depending on the complexity and technical maturity of an innovation, it may move through the entire process or through an abbreviated/accelerated one. This minimizes the associated work, increases acceptance and the chances of success, and allows a flexible reaction to changes to the situation that occur at short notice.

At the end of the process a finished, market-ready product with an attractive potential return is available, and it is handed over to the Sales Department and Customer Services for marketing.
The following four EBNER developments are almost ready to market or have recently been placed on the market.

Spiking is a fast, short-duration heat treatment applied shortly after continuous solution annealing and quenching of AA6xxx automotive strip. It is an additional form of heat treatment differing from a reheating/pre-aging or stabilizing treatment flat-rolled automotive AA6xxx alloys processed with an additional spiking heat treatment step show increases in paint bake strength up to 7 %. EBNER has already manufactured and installed one such spiking furnace at one of the leading producers of automotive AA6xxx strip. Two other spiking lines will be installed soon in North America.
Aluminum hot forming furnace
The aluminum hot forming furnace is a newly developed solution heat treatment furnace based on high convection heating technology (HICON®). It provides fast heating along with excellent temperature uniformity, meeting the CQI-9 standard for the automotive industry. An aluminum hot forming furnace heat treats high strength aluminum alloys to increase their formability, allowing 3D parts with complex shapes to be manufactured using hot forming and quenching (HFQ) technology. EBNER has two different designs for hot forming furnaces, depending on the throughput and footprint requirements. The first is the multi-level batch furnace, while the second is the roller-hearth furnace. A prototype roller-hearth hot forming furnace has already been installed in the EBNER R&D laboratory, to showcase aluminum hot forming solutions to customers.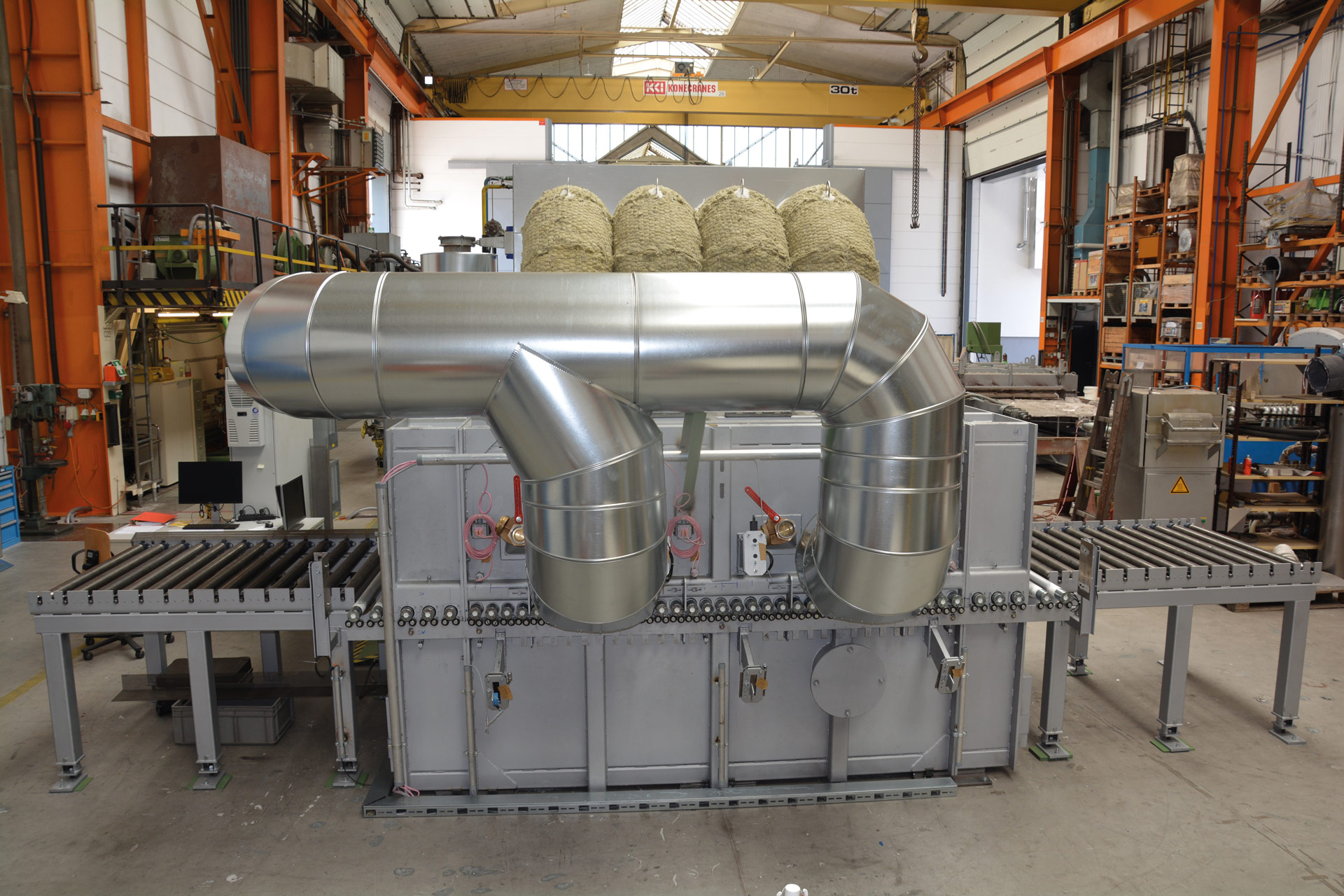 Advanced Burners and alternative heating systems
The main focus in this area has been optimization of the EBNER ECOBURN family of burners, to ensure the lowest possible NOx emissions – whether with burners that operate normally with a flame or burners designed for flameless combustion. These developments are of great importance to ensure that strict emissions guidelines such as the MCP (Medium Combustion Plant Directive) can be met. Work is currently focused on the ECOBURN FL burner, which is employed in high-temperature bright annealing lines and hardening and tempering lines, as well as in bell annealers. All developments will be integrated into other ECOBURN burners in the future, so that they are also optimized. In the RECOTEB® 2 project, long-term trials of a new double-P radiant tube burner are currently being carried at a hot-dip galvanizing facility. These trials will allow information on the service life, efficiency and NOx emissions to be gathered under production conditions. Along with reducing emissions when using natural gas as a fuel gas, work is also being carried out on alternative methods of reducing CO2.

Process modeling
Increasingly complex heat treatment cycles, paired with increasing demands on process and production control systems, have meant that model-based control (Model Predictive Control, MPC) is also increasing in importance. Currently, multiple models are in development at EBNER that will cover almost our entire line of facilities. These models supply not only optimized control of the furnace with regard to the precision of the process, but can also intervene in the production control system to minimize scrap and downtime. In a preliminary step, the models can be used to precalculate changes in processes or dimensions, ensuring optimal setpoint changes. Subsequently, the models can also be used for permanent furnace control. Currently, the models are being interfaced with the control system of an EBNER facility to evaluate their responsiveness. In the future, they will be further developed to allow use not only for MPC but also for PPC (Property Predictive Control).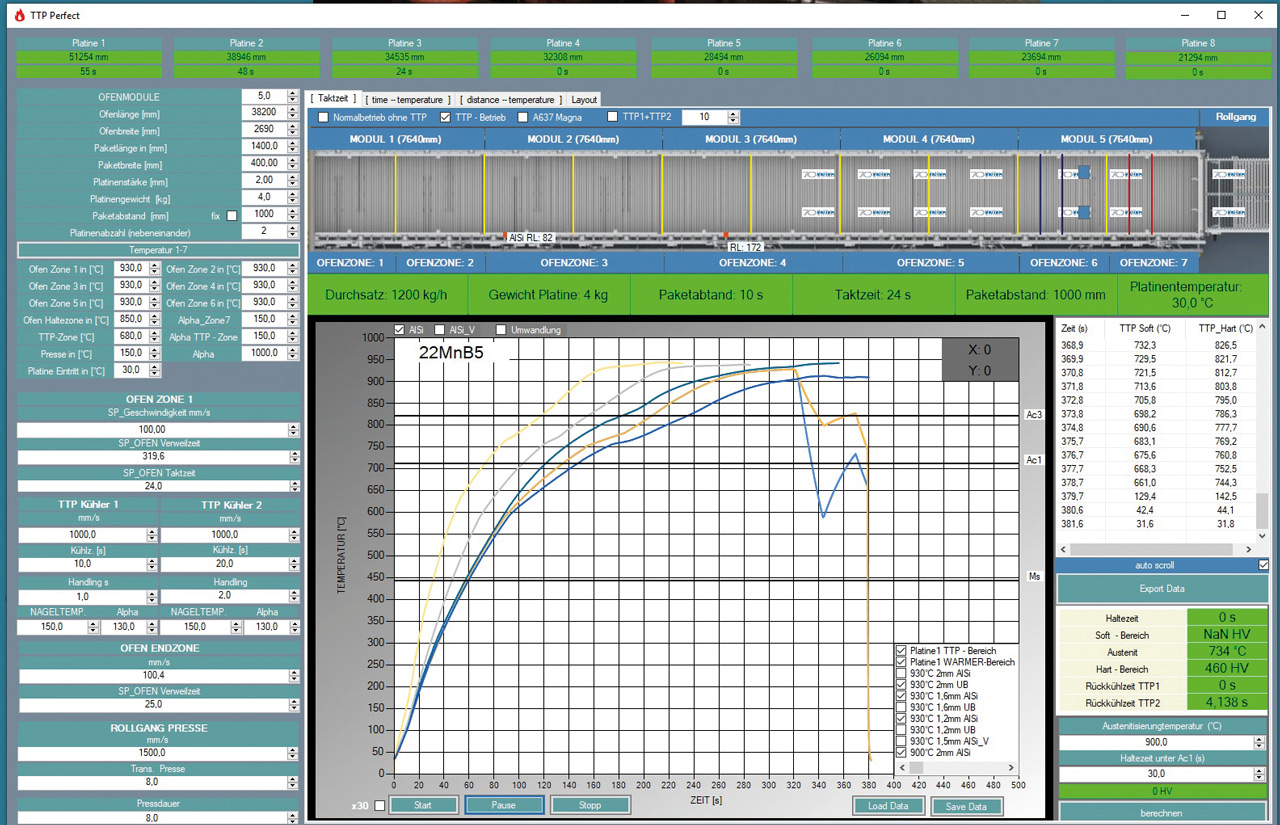 HICON
SABER®
The charging technology developed by EBNER, also known as HICONSABER®, has opened a new era in heat treatment with bell annealer furnaces. At typical bell annealer facilities, all handling movements of coils/carriers and bells are carried out by large, manually-operated overhead cranes. Charging and decharging the coils consumes about 10 % of the total processing time. Any improvements to these operations would have measurable effects on the entire process sequence, which led to the idea of the HICONSABER® system. This system is a fully automated one, in which a fully-automatic charging car collects the entire charge from the charging station and transports it to the workbase in a single step. The first fully automatic bell annealer facility equipped with the HICONSABER® system has already started production.